Medical Museion
The Medical Museion supports faculty research efforts by putting health care research and practice in a national historical, cultural and aesthetic perspective.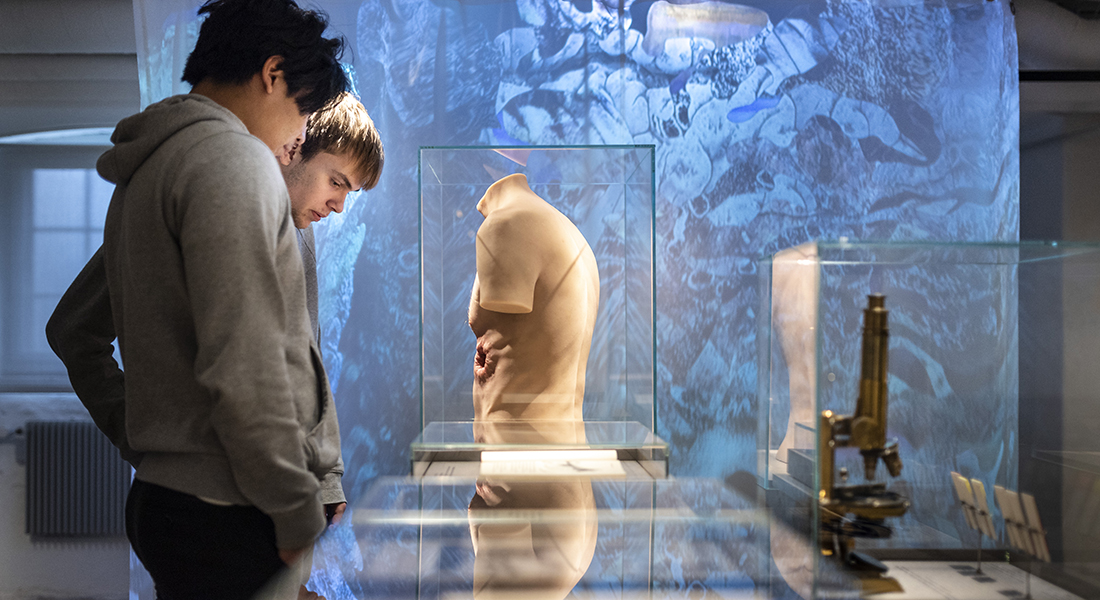 The Museion's research areas are medical history, medical science and technology studies, the communication of health science research, and medical museology.
We undertake research into the contemporary history and cultural context of biomedicine and medical technology. We are particularly interested in contemporary health authorities' visual and material culture and the variety of ways that health research is communicated to the general population.

Research by the Medical Museion is integrated with the collection and documentation of the written, oral, visual, physical and digital heritage of health care services, understood broadly – e.g. biomedical research, medical clinics, pharmacies, public health institutions, hospitals, primary care providers, dental services and the pharmaceutical and biotech industries. With this work, the Medical Museion fulfils its responsibility to the Heritage Agency of Denmark for documenting and preserving the country's medical heritage.

Research is carried out in conjunction with digital research and dissemination, exhibitions, tours and other public activities in the former Royal Surgical Academy and adjacent buildings in Bredgade. The permanent exhibitions display a small portion of the Medical Museion's large collections from the 18th to 20th century. In additional, there are special exhibitions that change regularly.
The COVID19-epidemic is already a historical event, and one of the worst health crises of recent times. As the main museum of the cultural history of medicine, it is Medical Museion's responsibility to document the epidemic for our future understanding.
If you have an object that tells us about the corona epidemic in Denmark, you can suggest that the Medical Museum collect it when the epidemic is over. To donate a physical item, fill out this contact form.
Office and administration
Fredericiagade 18
1310 København K
tlf. 3532 3800
fax: 3532 3816
Exhibitions
Bredgade 62
1260 København K
Opening hours
Tuesday-Friday: 10AM – 4PM
Saturday and Sunday: 12PM – 4PM
Staff
| Name | Title | Phone | E-mail |
| --- | --- | --- | --- |
| Search in Name | Search in Title | Search in Phone | |
| Aamot Helm, Aslak | Postdoc | +4535327426 | E-mail |
| Almind, Gert | Guest Researcher | +4535320878 | E-mail |
| Arnold, Ken | Director | +4535330692 | E-mail |
| Bech, Christoffer Gertz | Museum attendant | +4593509449 | E-mail |
| Bencard, Adam | Associate Professor | +4535320875 | E-mail |
| Bjerregaard, Malthe Kouassi | Curator | +4535320887 | E-mail |
| Chaudhry, Ameerah Amaani | Student FU |   | E-mail |
| Erfurth, Caroline Holm | Student FU |   | E-mail |
| Eriksen, Andreas Schmidt | Student | +4535337110 | E-mail |
| Esmann, Anna Louise Varona | Student FU |   | E-mail |
| Friis, Tine | Postdoc | +4593516034 | E-mail |
| Gaardsting, Ole Henrik | Guest Researcher |   | E-mail |
| Gerdes, Nanna | Museum Conservator | +4535320888 | E-mail |
| Glerup, Cecilie | Special Consultant | +4593509913 | E-mail |
| Green, Ane Signe | Academic Research Staff | +4593509125 | E-mail |
| Grytter, Simone Cecilie | Academic Research Staff | +4535326084 | E-mail |
| Hansen, Pia Burmølle | Museum attendant | +4593509449 | E-mail |
| Hansen, Sabrina Katja | Student FU |   | E-mail |
| Hastrup, Vibeke | Administrative Officer | +4593509449 | E-mail |
| Hauser, Jens | Guest Researcher |   | E-mail |
| Hussey, Kristin Diana | Guest Researcher |   | E-mail |
| Jensen, Amalie Wendelboe | Academic Officer | +4535337954 | E-mail |
| Jensen, Anne Bernth | Academic Research Staff | +4535331287 | E-mail |
| Jensen, Maria Thode | Attendant |   | E-mail |
| Jensen, Ulla | Senior Consultant with personnel management | +4535332906 | E-mail |
| Johansen, Martin Gerster | Head of Communications | +4535324023 | E-mail |
| Juel, Valdemar Emil Wangensteen | Student FU |   | E-mail |
| Jørgensen, Anne-Sofie Rydal | Student FU |   | E-mail |
| Jørgensen, David Peter Flørli | Administrative Officer |   | E-mail |
| Kolodziej, Jonas Nikolai | Student FU |   | E-mail |
| Lillesøe, Sillas Funch | Attendant FU | +4593509449 | E-mail |
| Lindow, Susanne | Guest Researcher |   | E-mail |
| Meyer, Ion | Head of Collections, Curator | +4535323804 | E-mail |
| Morris, Olivia Anna | Student FU |   | E-mail |
| Olsen, Annika Klæmintsdóttir | PhD Fellow | +4535325929 | E-mail |
| Pedersen, Frederikke Heidemann | Student FU |   | E-mail |
| Riel, Charlotte | Administrative Officer | +4535323800 | E-mail |
| Rogers, Hannah Star | Postdoc | +4535328262 | E-mail |
| Rojahn, Elisa Sander | Student FU |   | E-mail |
| Schjøtt-Wieth, Amalie Suurballe | Academic Research Staff | +4593509529 | E-mail |
| Stampe, Anne-Sofie | Academic Staff | +4535330241 | E-mail |
| Stromark, Josefine Rahbek | Research Assistant | +4535333158 | E-mail |
| Svendsby, Odin | Student FU |   | E-mail |
| Söderqvist, Thomas | No job title | +4535323801 | E-mail |
| Tovgaard, Julie Wouwenaar | Academic Research Staff | +4535337281 | E-mail |
| Tybjerg, Karin | Associate Professor | +4535323803 | E-mail |
| Vilstrup, Niels | Curator | +4535323867 | E-mail |
| Whiteley, Louise | Associate Professor - Promotion Programme | +4521126712 | E-mail |
| Winther, Anne Louise H. Blicher | Attendant | +4593509449 | E-mail |
| Yvonnet, Sarah | Postdoc | +4535332988 | E-mail |